Digital mental health is a rapidly growing field that encompasses a wide variety of technology solutions. Its rise in recent years reflects the growing need for mental health services and the lack of access to these services, particularly in physical health settings. Concurrently, the COVID-19 pandemic contributed to a 25% increase in anxiety and depression worldwide as well as a rise in suicidal ideation. To make matters worse, many people live in areas with a shortage of behavioral health professionals, particularly in the U.S. This confluence of factors has exacerbated the mental health crisis, putting increased strains on an already burdened national healthcare system. 
Put simply, access to care is one of the most critical issues plaguing behavioral health. Long wait times for therapists or inadequate insurance coverage for therapy leads to untreated mental health needs. Lack of support for individuals in need contributes to a rise in emergency department visits and a cycle of hospitalization without real, sustainable improvements in clinical results. Ultimately the issue of access leads to worsening health outcomes—both physical and mental—and rising healthcare costs for providers, payors, and individuals.
To address the lack of access to appropriate behavioral health care, digital mental health solutions are on the rise, from teletherapy services to meditation apps. While a plethora of solutions exist, this blog post will explore how some popular digital mental health technologies are addressing the mental health crisis in the U.S. and outline NeuroFlow's unique approach to digital mental health.
Conventional Digital Mental Health Solutions
While this is by no means an exhaustive list, four prevailing digital mental health solutions on the market include teletherapy, tracking and self-help apps, meditation apps, and digital therapeutics. Each plays an important role in improving access and helping individuals in need receive the right level of care.
Teletherapy
Teletherapy solutions help more people easily access therapy, emphasizing affordability and reducing the stigma associated with seeking help. These apps connect individuals with therapists that either accept their insurance or are less expensive than traditional in-person therapy. Well-known solutions in this space include BetterHelp and TalkSpace. They often provide counseling through a variety of mediums including video chat, text message, and voice calls.
Tracking & Self-Help Apps
Recognizing the limited number of behavioral health professionals and the need for self-care tools, several solutions have emerged to help individuals manage their own well-being and lower their risk for a mental health crisis. Some examples include Bearable and Daylio Journal, both of which empower users to track their mood, daily activities, and symptoms to better understand what factors contribute to anxiety or depression and what activities alleviates these conditions.
Meditation Apps
Like trackers, meditation apps aim to limit the strain on the behavioral health system by supporting lower acuity individuals through regular meditation. Calm is one of the leading apps in this space, delivering both brief and longer meditations to help individuals increase mindfulness, relieve stress, or improve self-acceptance.
Digital Therapeutics
Digital therapeutics are used to treat both physical and mental health conditions. To earn the title of a digital therapeutic, solutions must be clinically evaluated and must meet FDA approval. Digital therapeutics can treat specific diseases and disorders, and they can be completed independently or alongside other medications and treatments. For example, Freespira is a digital therapeutic that helps treat individuals suffering from anxiety attacks or post-traumatic stress disorder (PTSD). It provides sensor technology that tracks breathing to improve breathing exercises and offers personalized coaching to help individuals overcome anxiety attacks and traumatic stress.
Unlike tracking and meditation apps, digital therapeutics are considered treatment for diagnosed behavioral health conditions and are actively prescribed by a clinician. As more research emerges about the efficacy of digital therapeutics in treating behavioral conditions, health plans are increasingly covering digital therapeutics.
NeuroFlow's Approach to Digital Mental Health
While all of the technologies mentioned above can alleviate strain on the healthcare system, the approach is fragmented. Many technologies tackle a single issue without addressing other contributing factors that hinder access. The technologies are rarely integrated into a user's existing care network, leading to siloed mental health data that providers and health plans can't act on. And finally, many of these solutions only serve a portion of the population in need of mental health support, skewing toward high acuity individuals in the case of digital therapeutics or lower acuity individuals in the case of meditation or self-help apps. These solutions fail to support the larger population or single individuals whose level of severity may change over time.
The current state of fragmented digital mental health forces health systems and payors to invest in a wide breadth of solutions to truly expand access. Individuals then must navigate a web of solutions to find the right tools for their needs. Neither method makes sense for solving access at scale.

NeuroFlow takes a holistic approach with the goal of serving diverse needs within populations and integrating into existing workflows in health systems and health plans. NeuroFlow provides self-care capabilities, including behavioral health content rooted in the tenets of digital cognitive behavioral therapy (dCBT), and facilitates measurement-based care so that healthcare organizations can identify individuals in need and risk stratify their population. The platform is configurable so that while it can serve large populations, the technology can automatically tailor clinical content and crisis resources to specific groups with more targeted needs.

This comprehensive approach to behavioral health overcomes many of the limitations that single-solution apps face. Instead of taking a one-size-fits-all approach, NeuroFlow treats a spectrum of needs, helping individuals stay well, prevent crises, improve in-between behavioral health visits, and more effectively de-stress the overburdened behavioral healthcare system.
A Stepped Approach to Self-Management
NeuroFlow's self-care content is developed using principles of dCBT, providing journeys—tailored collections of videos, meditations, and activities—that cover a wide range of topics including loneliness, sleep, and resilience. NeuroFlow takes a stepped approach to dCBT. This is unique to the platform, and it allows journeys to meet various population behavioral health needs as well as the evolving needs of an individual. Journeys are either foundational, supporting lower severity individuals, or therapeutic, supporting individuals with acute behavioral health needs. Many NeuroFlow users may interact with either journey type in the course of managing their mental health.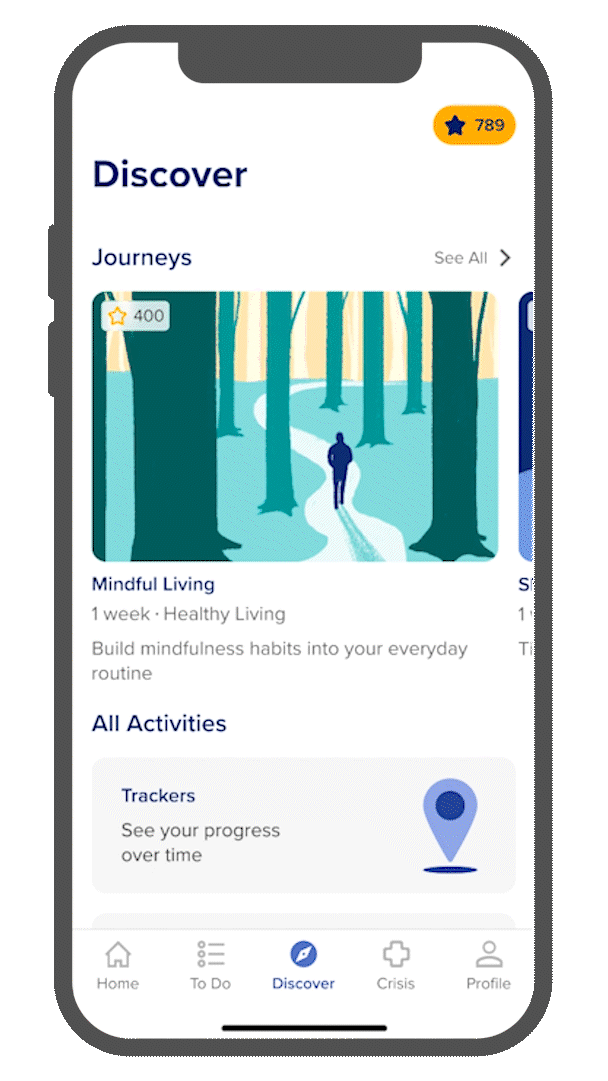 NeuroFlow delivers journeys in a variety of ways. The platform can automatically assign journeys based on severity level; individuals can discover journeys that interest them in the gallery; finally, a care manager can assign a specific journey as a companion to active care management. 
Foundational journeys provide bite-sized educational content on topics ranging from workplace stress to positive psychology. These journeys are designed to help people learn about mental health conditions, teach researched-backed skills that improve symptoms, build positive habits, and provide information for advanced treatment options in the event an individual needs additional support.
Therapeutic journeys provide more intensive dCBT courses developed by Magellan Health that support acute mental health conditions. Significant research has demonstrated that dCBT is an effective treatment for depression, anxiety disorders, alcohol and drug use problems, and severe mental illness. The practice focuses on identifying and changing unhelpful thinking patterns by recognizing distortion in one's thinking or better understanding one's motivations. 
Both journey types can be self-guided or could be incorporated into a guided treatment program led by a behavioral health specialist. These self-care tools ensure that individuals always have access to behavioral health support, even when a therapist or clinician may not be accessible.
Configurability to Meet Diverse Needs
NeuroFlow's platform can be configured to a client's specific population, providing localized resources or content related to a specific community, such as caregivers, military, or healthcare workers. Clients can also use NeuroFlow's content management system as a delivery engine for their own existing resources, especially if they need a more effective way to deliver timely and targeted content to their population.
The flexibility and accessibility of the platform and mobile app—available on iOS, android, and mobile web—makes them powerful tools for improving access across an entire population. Rather than focusing on a single solution, NeuroFlow provides the content and framework to solve for a wide range of needs and works within the healthcare system to help health plans and providers deliver more effective solutions.
Identification and Triage to the Appropriate Level of Care
A key element of the NeuroFlow approach is the ability to identify at-risk individuals through regular, remote assessments and delivering that information to the care team. NeuroFlow offers dozens of validated assessments that help care teams identify substance use disorders, depression, anxiety, post-traumatic stress disorder, and more.
The platform collects and combines assessment data, self-reported mood and sleep data, and other in-app metrics to create a proprietary severity score which indicates overall well-being as well as a person's risk level for self-harm. When an individual's severity score rises, it triggers an alert in the platform that informs care team members so that they can intervene and potentially refer the individual to more targeted care.
If care teams don't have the necessary staff to perform these interventions, NeuroFlow's own Response Services team will reach out to at-risk individuals and help connect them to the resources they need. If therapy, psychiatry, or treatment from other behavioral health specialists is the next best step, NeuroFlow works with partners who provide these services and accept a wide range of insurance plans. This referral process can also incorporate and prioritize any partners or resources that an organization has already invested in.
The combination of NeuroFlow's diverse solutions ensure that individuals not only have access to care but are actively supported through every step of their wellness journey. Our mission is to ensure no individual falls through the cracks of the healthcare system, and we are constantly improving our platform to better identify, engage, and support individuals in need.